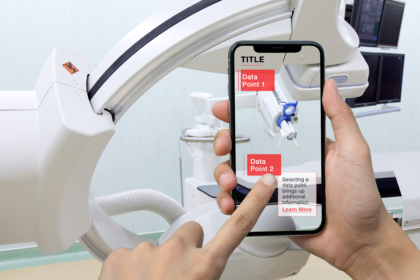 By: Bob Bekian
Augmented Reality (AR) is a technology that has evolved from a novelty into a powerful business tool. One of the ways the medical device sector has adopted AR is by developing interactive training programs for devices. These tools help Doctors and Technicians understand a products usage, features and benefits using interactive digital overlays. AR, as a training tool, is faster, more cost effective, and leads to higher retention rates. This results in more trained professionals adopting equipment and becoming certified by manufacturers without the high cost of the classroom or individual traditional training.
Since AR is typically experienced on a smartphone or tablet, most people already own the viewing devices. There are no goggles needed and AR users do not need to "tune out" their environment with a fully immersive session. Instead, the viewer can stay present and interact with the AR content. This AR system makes it easier to access device information and detailed training programs.
It has been documented that XR or experiential reality training (which includes AR & VR) has resulted in a higher retention rate of the subject matter as compared to traditional classroom training. Statistics for retention rates of in-person training can be as low as 5%, while XR training has raised retention rate to up to 90% in some cases.
The forward thinking companies who are adopting AR to help teach and train about their devices have increased their trained client-base and as a result are seeing more advocates for their products. My prediction is that medical device companies who adopt a strong commitment to AR will increase sales because of their access to a better, more interactive, and more efficient training method.
For more information about Professional AR solutions for the medical device industry, email [email protected].